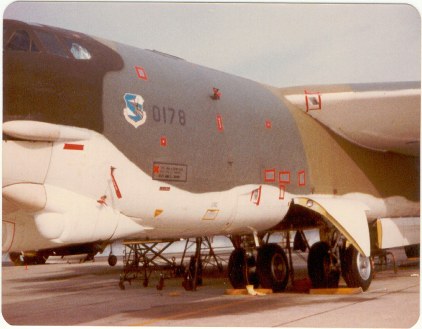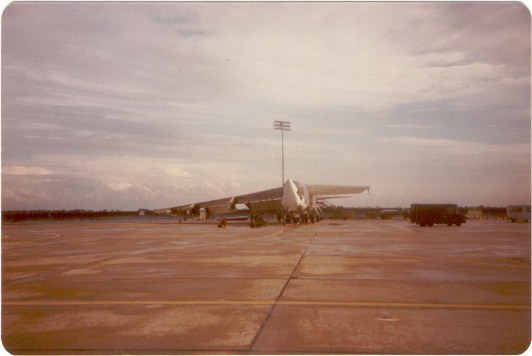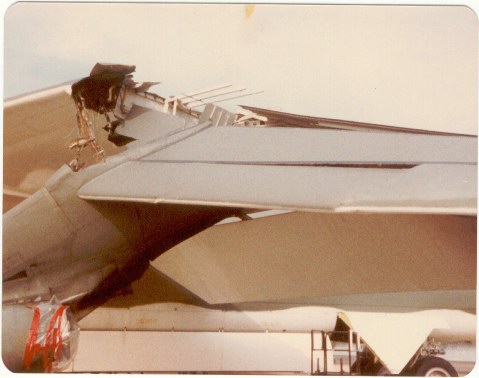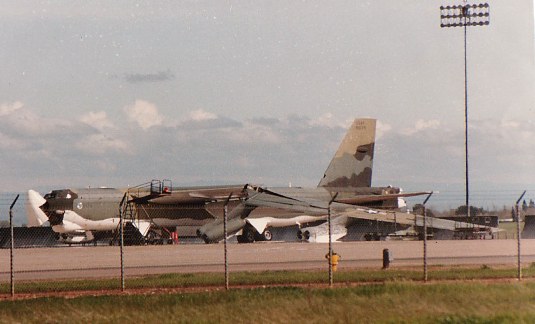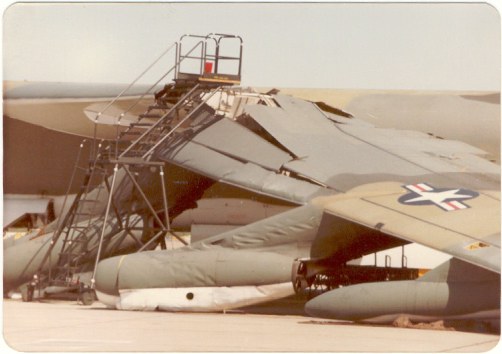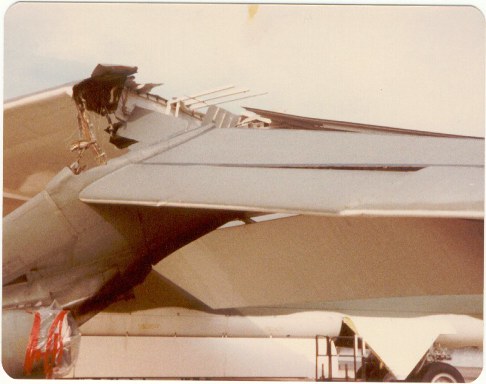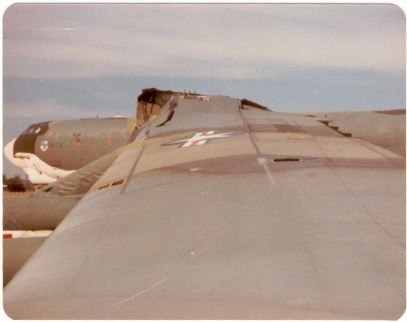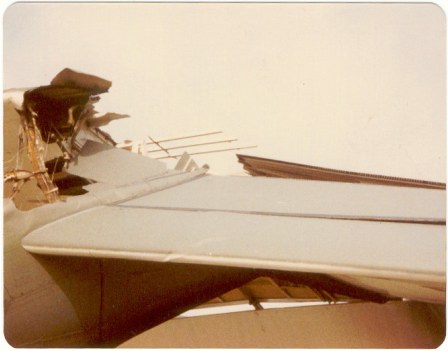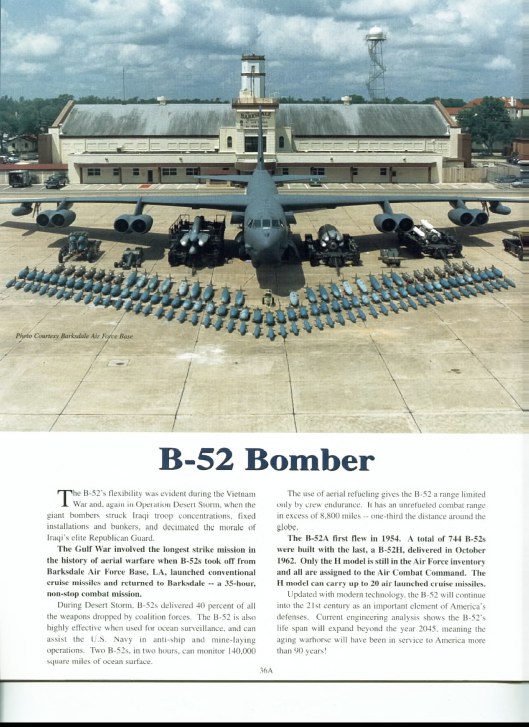 The B-52 Stratofortress provides a large-scale global projection of conventional air power. The full spectrum of conventional weapons can be delivered anywhere in the world against enemy targets and defenses with great precision. No other weapons systems offer the flexibility and versatility of the B-52.
It is an important national defense resource that stands ready to accept new weapons, tactics and missions with a continued capacity for growth. The Boeing B-52, also known as the Stratofortress,soon will enter its fifth decade of operational service. It continues to be an important element of the U.S. Air Force bomber fleet. Because the B-52 has been kept up-to-date with numerous improvements over the years, it is referred to as the bomber that is "not getting older, just getting better." No bomber in U.S. military history has been called upon to remain operational for the length of time expected of
the B-52.

Status of B-52H Model
The latest model, the B-52H, has almost the same external appearance of earlier models; however, it is substantially different. Some of the major advancement include:

Increased range made possible with more powerful Pratt & Whitney TF-33 turbofan engines;
More refined electronic defense and offensive systems;
Extreme low-altitude capabilities.

Boeing has made major modifications to the B-52H since it entered service, and expects to perform additional improvements into the future — assuring the bomber will be a viable part of the fleet well into the next century.

Upgrades since the early 1980s have included many new and improved systems: offensive avionics, environmental control, fuel quantity, auto pilot, radar, enhanced electronic countermeasures and conventional air-launched cruise missiles (CALCM).

B-52s in today's fleet are equipped to carry the Short-Range Attack Mssile (SRAM) and Air Launched Cruise Missile (ALCM). SRAM is a supersonic air ground missile with nuclear capability. It can follow either high- or low-altitude flight paths in striking designated targets. The combination of the Stratofortress and missiles provides an elusive launching pad — capable of dropping its weapons from nearly 10 miles in the sky or at low levels.

Current Boeing Involvement
Earlier this year, Boeing delivered an unsolicited proposal to re-engine the 94 remaining Boeing B-52H Stratofortress bombers to the U.S.Air Force Air Logistics Center at TinkerAir Force Base, Okla. Delivery of the proposal culminates a year-long feasibility study. In response to government challenges
for acquisition reform, the proposal includes some cutting-edge innovations such as the use of engines currently found on commercial jetliners, a long-term lease arrangement in lieu of the more traditional outright purchase of the engines, and the use of commercial rather than military maintenance support.

Boeing would replace the bomber's eight TF-33 turbofan jet engines with four RB-211-535 propulsion systems, provided by Allison Engine Company of Indianapolis, Ind. The RB-211-535 has been selected by more than 80 percent of the world's Boeing 757 operators and has been in service for more than a decade. If accepted, the proposal calls for the engines, related-accessory equipment and long-term maintenance support to be provided by Allison. Boeing selected the RB-211 through a competitive analyst of major commercial engine manufacturers.

Management of the re-engining program will be performed by Boeing in Wichita, Kan. In addition to theactual aircraft modifications and engine installations, Boeing also will manage fabrication of necessary hardware at Boeing locations in Tennessee, Texas and Washington.

In making the proposal, Boeing noted that with the B-52 fleet scheduled to remain in the Air Force inventory for the next quarter century, the lease of commercial, off-the-shelf engines and related equipment will, by conservative estimates, save the Air Force and the American taxpayers about $6 billion in operation and support costs over the remaining life of the aircraft, or $200 million a year. Potential value of the proposal to Boeing is about $1.3 billion.

Boeing currently is working on a Conventional Mission Upgrade Program that involves transferring the conventional weapon capability from the B-52G to the B-52H. The modification provides the capability to accommodate HAVE NAP and Harpoon missiles and the universal bomb bay adapter, as well as integrated conventional stores management and global positioning systems.

Boeing has completed a production program for the Common Strategic Rotary Launcher (CSRL). The units are installed on the B-52H. The CSRL is designed to carry SRAM and ALCM, as well as gravity nuclear weapons.

Bomber Characteristics
The B-52's eight turbo-fan engines are mounted in pairs on sharply raked forward pods under the185-foot wing. Its operational range with one air refueling is 7,500 nautical miles. The main landing gear units retract into wheel wells in the body. The gear has eight main wheels in double tandem and two small protection wheels at the wing tip. Retracted, the main wheels are housed two-each in four fuselage wheel wells, while the outrigger gears go up into the wing.

B-52 striking power can be either nuclear or conventional. Depending on the external conventional configuration, a load of 45 or 51, 500-pound bombs can be carried 18 or 24 on external wing pylons and 27 in the bomb bay. Or 20 air-to-surface nuclear missiles may be carried, internally and externally. A conventional weapons load totaling more than 50,000 pounds can be carried.

Historical Information
The first KC-135A entered the U.S. Air Force fleet in 1957; the last was delivered in 1965. About 550 of
the 732 tankers built, all by Boeing at its Seattle facilities, remain in service. In addition, Boeing built
88 similar aircraft for other Air Force uses, such as flying command posts, pure transports, electronic
reconnaissance and photo mapping. The last of these special-purpose aircraft was delivered in late
1966.

KC-135 Stratotanker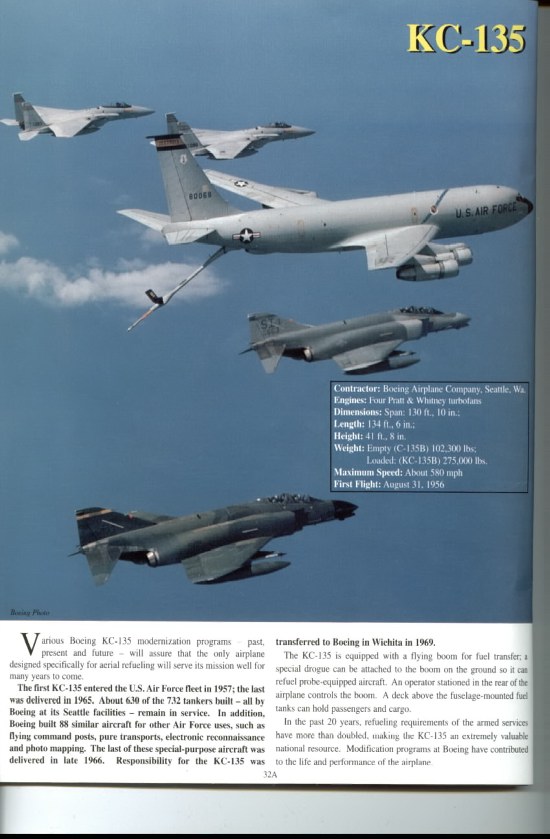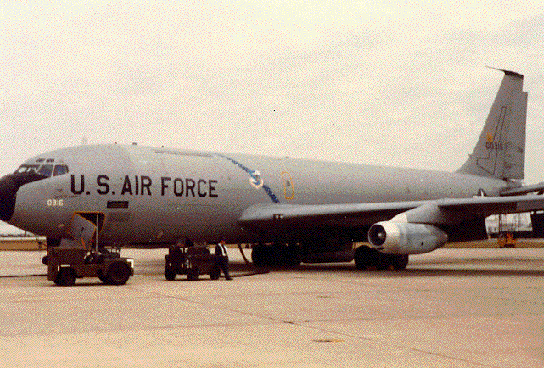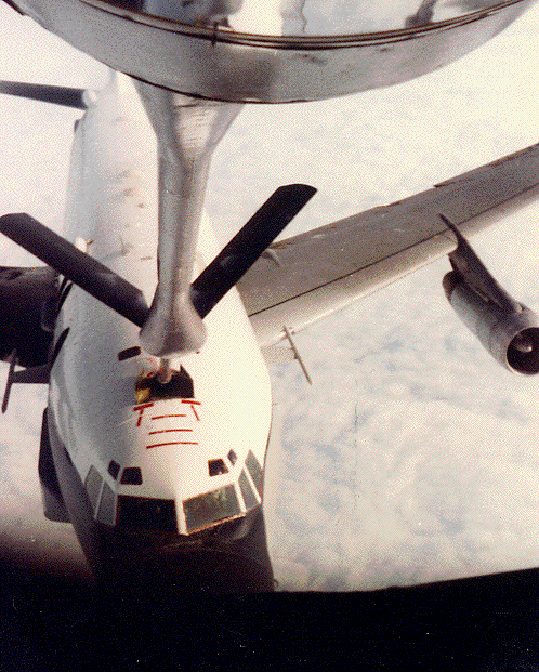 Tanker Characteristics
The KC-135 is equipped with a flying boom for fuel transfer; a special drogue can be attached to theboom on the ground so it can refuel probe-equipped aircraft. An operator stationed in the rear of the airplane controls the boom. A deck above the fuselage-mounted tanks can hold passengers and cargo.

In the past 20 years, refueling requirements of the armed services have more than doubled, making the KC-135 an extremely valuable national resource. Modification programs at Boeing have contributed tothe life and performance of the airplane. Those efforts include wing re-skinning and the KC-135R and KC-135E re-engining programs.

KC-135 Reskinning Program
A major program to replace lower wing surfaces on the aircraft was completed in 1988, with a total of 746 C/KC-135 aircraft — most of them tankers — modified over a 13-year period.

The work involved replacing about 1,500 square feet of aluminum of the underside of the wings, which carry most of the wing load in flight, with an improved aluminum alloy. The original wing surface consisted of a type of aluminum more susceptible to fatigue.

Skin panels were milled, machined and contoured at Boeing. The wing then went into a rivet assembly jig where stiffeners and skins were joined. The bottom section of the old wing was cut away and replaced by the new sections. In addition to the skin panels, engine strut fitting also were replaced.
Each unit required a total of 564 parts, 32,200 steel fasteners and 19,500 aluminum rivets.

CFM Re-engine Program
Because the KC-135A's original engines are of 1950s technology, they don't meet modern standards for increased fuel efficiency, reduced pollution and noise levels. By installing new CFM56 engines,performance is enhanced and fuel off-load capability if dramatically improved. In fact, the modernization
is so successful, two re-engined KC-135R can do the work of three KC-135As.

This improvement is a result of the KC-135's lower fuel consumption and increased performance that allows the tanker to take off with more fuel and carry it farther. Since the airplane can carry more fuel and burn less of it during a mission, it's possible to transfer a much greater amount to receiving aircraft.

The quieter, more fuel-efficient CFM56 engines are manufactured by CFM International, a company owned jointly by SNECMA of France, and General Electric of the United States.

Because the KC-135R uses as much as 27 percent less fuel than the KC-135A, the U.S. Air Force can expect huge fuel savings by re-engining its fleet of KC-135s — about $1.7 billion over 15 years of operation. That's enough to fill the gas tanks of some 7.7 million American cars each year for 15 years.

Annual savings are estimated to be about 2.3 to 3.2 million barrels of fuel, about three to four percent of the Air Force's annual fuel use. This equals the fuel needed to provide electrical power for 145 days to
a city of 350,000 to 400,000 people.

Re-engining with the CFM56 engines also results in significant noise reductions. Areas surrounding airports exposed to decibel noise levels is reduced from over 240 square miles to about three squaremiles. This results in a reduction in the noise impacted area of more than 98 percent. Maximum
take-off decibel levels drop from 126 to 99 decibels.

Boeing has delivered approximately 400 re-engined KC-135Rs and is under contract for about 432 re-engine kits. Each kit includes struts, nacelles, 12.2 miles of wiring, and other system modification components.

KC-135E Re-engining Program
Boeing has completed work on a program to re-engine all KC-135As in the Air Force Reserve and Air National Guard fleet -- a total of 161 airplanes. In that modification program, which began in 1981, KC-135As were modified with refurbished JT3D engines taken from used, commercial 707 airliners.
After modification, the airplanes are designated KC-135Es.

This upgrade, like the KC-135R program, boosts performance while decreasing noise and smoke-position levels. The modified KC-135E provides 30 percent more powerful engines with a noise
reduction of 85 percent.

The program included acquisition of used 707s, procurement of purchased parts and equipment, basic engineering, some parts manufacturing and refurbishment and installation of the engines, struts and
cowling. The kit also included improved brakes, cockpit controls and instruments.

Looking Ahead: Continued Improvement
The U. S. Air Force will continue its effort to improve the KC-135 with a program to add wing tip, hose and drogue refueling pods to the tanker. The Air Force also has acknowledged that the cockpit of the KC-135 must be modernized. The Air Force issued a solicitation for new compass and radar and to add a global positioning system in the cockpit.