Post your opinion and read the latest discussion

about where, when, and how to hold a reunion to the

look for the "reunion" forum

then click "new topic" to add your opinion


This is where people plan to be living in the summer of 2002. This might help us to decide where to hold the reunion. Only people who have contacted me directly will be on this list. If you are not on the list below, please EMAIL me. If you know where someone is that is not on this list PLEASE contact them and get them to contact Tips24@texas.net


As more information comes in, I will update the map and the list. The list below is more current than the map.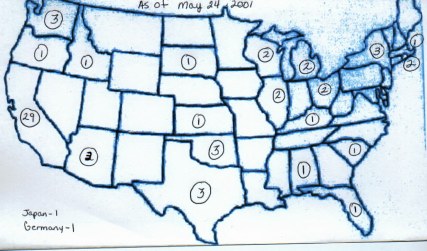 Alabama:
Jim Carroll

Arizona:
Stacy Hoffos
Jay Burrow
Garry Simpson

California:
Raul Altares
Aaron Drummond
Jim Flowers
Scott Larson
Jo Martin
Geoff Newman
John Shulte
George Smith
Michael Steinmetz
Harold West
Bill Knipper (actually Reno)
Rich (Del) Delacalzada
Teri Netzel
Elaina Miles
Kelly Kline
Gene Monper
Kevin Banjamin
CB Bennett
Mike Green
Leo Bailes
Joel Irvine
Randy Ryser
Lenny Griffin
Shane Munn
Paul Mathis
Preston Strayhand
Ronnald Zigler
Lonnie Jackson
Arthur Watson
Jose Jiminez
William Maddox
Daniel DeSmet

Florida:
Scott Blank

Georgia:
John Fisher

Idaho:
Doug & Debbie Knehr

Illinois:
Craig and Michelle (Phillips) Schmidt
Ken Kozeluh

Iowa:
Mike Reimers

Kansas:
Jim Lord

Kentucky:
Larry Leonard

Massachusetts:
Charlie Meyer

Michigan:
John Simmons
Michael (Mac) McQueary

Minnesota:
Randy Williams

New Jersey:
Wick
Neil Bierman

New York:
Joey Lemma
Jeff Labrie
Ken Alberry

Ohio:
Linda (Wiles) Barclay
John Boyett

Oklahoma:
Elaine Bingham
Dino Deinhardt
TJ Langdon

Oregon:
Bill Wilkenloh
Jack Gentle

Pennsylvania:
Peter Moertlbauer

South Carolina:
Dieter Marcum
Jim Shinn

South Dakota:
John Hoag
Steve Ashley

Tennesee:
Mark Austin

Texas:
Doug Sapp
Tina (Worth) Gipson
Bill Nims
Sharon Cousler
Ken Pritchard

Wisconsin:
Jim Huber
Mark Clark

Washington:
Craig Stow
Tom Potter
Mark Snider
Mike Bishop
Dean Dreher
Joel Diaz

Japan:
Jim Leeper

Germany:
Vern Bankston